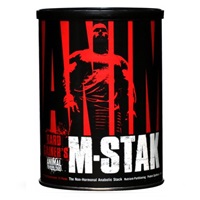 Animal M-stak is een supplement van Universal Nutrition met aminozuren. Daarnaast bevat het cafeïne en andere stimulanten, en ingrediënten gericht op het verhogen van de eiwitsynthese.
BCAA's gaan spierafbraak tegen en bevorderen het herstel van zware krachttraining. Deze aminozuren zitten ook in eiwitpoeder en in eiwitrijke voeding, maar in aminozuur-supplementen in geconcentreerde vorm.
Dit supplement kopen:
Laatste Amazon prijs-update op 6 september 2023 11:54 am
Productomschrijving
Productomschrijving volgens Universal Nutrition (in het Engels – bron):
"For many of us, the difficulty wasn't the initial response to weightlifting, that helped us rapidly change our bodies, and our lifestyles along with it. The challenge came, when our growth stagnated. And our gains plateaued. For many, that turning point moment is where there training lives came to an unceremonious end. But not for us. For those few who were too in love with the iron to ever just walk away, we dedicated ourselves in earnest to breaking through that plateau. It was this urge that inspired the brothers at Animal to formulate the highly anabolic M-Stak.
What is anabolic? Muscle building and the processes that lead us down the road to new growth… Protein synthesis. Nitrogen retention. Nutrient-partitioning. What is Animal M-Stak? A natural, non-hormonal supplement designed for the most stubborn of all 'hardgainers.' From green beginner to diehard vet, we've all gone through it – skidding to a halt, our progress idles on a plateau. Can't gain another pound, workouts are stale, lifts are static. This is the hardgainer's syndrome, and from the most slender of ectomorphs to the most muscular endomorph, we've all been there. Desperate to ignite new growth, we'll try almost anything. For those of us so dedicated to the iron game, these moments of frustration have come to an end in the form of Animal M-Stak.
M-Stak is built on a foundation of natural anabolic flavones born from Eastern European athletic studies. These special flavones have long been theorized to help enhance targeted gains in lean muscle mass. M-Stak combines the most powerful of these anabolic compounds in significant dosages, making the long storied anabolic potential of the product all the greater. Primary among these flavones are Beta-Ecdysterone (Cyanotis Vaga) and 5-Methyl-y-Methoxyisoflavone. These ingredients have the ability to shuttle nutrients specifically towards lean mass accumulation, a process known as 'nutrient partitioning.'
The anabolic flavones in M-Stak can also help promote enhanced protein synthesis and nitrogen retention. Next up are Ajuga Turkestanica and Beta Sitosterol. Ajuga Turkestanica contains the potent phytosteroid, Turkesterone, believed to be extremely powerful in accelerating protein synthesis. Beta Sitosterol, while having its own inherent anabolic potential, helps promote a healthy immune system and may also help support healthy cortisol levels already within normal range.
With M-Stak, you also get a powerful anti-catabolic amino blend. With advanced forms of leucine and the other BCAAs spearheading the mixture, these aminos work from a cellular level to directly stimulate protein synthesis. Studies suggest that by adding leucine along with a protein/carb meal, you get even greater whole body net protein balance than just consuming protein and carbs alone. These aminos help to stimulate muscle recovery and protein synthesis via translation regulations, all through non-hormonal means. These aminos essentially work as a signal for turning on the muscle building process, supporting increased muscle anabolism following a training session.
We've also included key 'anabolic adaptogens' such as Safed Musli, Muira Puama, and the isoflavones from Kudzu. Together these natural herbs and extracts have been suggested to help increase physical training capacity, improve endurance, minimize the catabolic stress response, decrease mental fatigue as well as support sexual health and boost support system function. These are critical factors for naturally enhancing ones performance levels in the gym.
You also get powerful insulin potentiators which work to support insulin production already within healthy range – compounds designed to help your body to utilize ultra anabolic insulin both effectively and efficiently for supporting muscle growth. This equates to increased uptake of glycogen and increased muscle cell volume which contributes to that full, pumped feeling when you workout. M-Stak also delivers a potent energy blend, packed with powerful, natural stimulants designed to propel you through even the most grueling of training sessions. The addition of this complex, easily identifiable by its red capsule, makes M-Stak perfect for pre-training, lighting a fire under that we all need from time to time.
Finally, M-Stak's M-Factor transport complex works to promote nutrient utilization to ensure the powerful components of the formula are processed to maximum efficacy. Using ginger root extract coupled with the powerful absorption enhancers 6,7-Dihydroxybergmottin and Piper Nigrum Extract, you can be sure that the myriad growth factors in the M-Stak formula are working to their full capacity and are not going to waste.
M-Stak floods your system with an abundance of anabolic nutrients, switching your muscle-building signals on and amplifying them. Combining flavones and sterones in hefty doses with the most anabolic of amino blends supported by an array of cutting-edge adaptogens in a single pre-training pack designed for optimum absorption and convenience, the new Animal M-Stak takes non-hormonal lean mass nutrient partitioning to a whole new level. Animal M-Stak, The Non-Hormonal Anabolic Stack, has come to turn 'hardgainers' into 'hard' gainers."
Ingrediënten en voedingswaarde
Volgens het etiket (via Body & Fitshop):
Werkzame ingrediënten en voedingswaarde:
| | |
| --- | --- |
| Samenstelling per: | dosering (1 zakje): |
| | |
| Natuurlijke flavone / sterone mix | 750 mg |
| Cyanotis vaga extract (β-ecdysterone) (hele plant) | |
| 5-methyl-7-methoxyisoflavon | |
| Ajuga turkestanica extract (turkesterone) | |
| Fytosterolen (beta sitosterol) | |
| | |
| Amino Mix | 3000 mg |
| L-leucine | |
| L-isoleucine | |
| L-valine | |
| L-taurine | |
| Acetyl-L-Carnitine (ACL) | |
| Leucine ethyl ester (HCL) | |
| | |
| Anabole adaptogen complex | 1000 mg |
| Muira Puama (schors) | |
| Kudzu (isoflavonen) (wortel) | |
| Safed Musli (wortel) | |
| Siberische ginseng (wortel) | |
| | |
| Insuline potentiërende complex | 500 mg |
| Fenegriek (4-hydroxyisoleucine) (zaad) | |
| Banaba blad extract (corosolkic zuur) | |
| Cinnulin PF ™ | |
| Na-R-alfa-liponzuur (NA-R-ALA) | |
| | |
| M factor mix | 500 mg |
| Gemberwortel (gingerole, shogaols) | |
| Grapefruit (6,7-dihydroxybergamottin) (fruit) | |
| Bioperine (R) (fruit) | |
| | |
| Boost mix | 500 mg |
| Methylxanthine (cafeïne theobromine) | |
| Kolanoot (zaad) | |
Overige Ingrediënten: voedingszuur: dicalciumfosfaat, wei (bevat melk), verdikkingsmiddel: microkristallijne cellulose, methylxanthine (cafeïne watervrij, kolanoot poeder, guarana zaad poeder), gelatine (dierlijk), antiklontermiddelen: stearinezuur, magnesiumsilicaat, soja (van fytosterole), kleurstoffen: titanium dioxide, briljantblauw, allurarood, farmaceutische glazuur.
Allergeneninformatie: kan sporen bevatten van ei, pinda, noten, vis, schaaldieren en gluten.
Bijwerkingen/waarschuwingen:

Is Animal M-Stak gevaarlijk in gebruik? Dit zijn de waarschuwingen die er op het label staan:
"Allurarood kan de activiteit of oplettendheid van kinderen nadelig beïnvloeden.' Niet aanbevolen voor personen jonger dan 18 jaar. Niet geschikt voor vrouwen die zwanger zijn of borstvoeding geven. Dit product bevat flavonen en phytoecdysterones. Raadpleeg je arts voorafgaand aan gebruik als je medicijnen gebruikt, of een medische aandoening hebt. Atleten zouden eerst bij de doping autoriteit moeten informeren of ze dit product kunnen gebruiken. Dit product is een voedingssupplement. De aanbevolen dosering niet overschrijden. Een gevarieerde, evenwichtige voeding en een gezonde levensstijl zijn belangrijk. Een voedingssupplement is geen vervanging van een gevarieerde voeding. Koel, droog en buiten bereik van kinderen bewaren."
Gebruik en dosering
Volgens het etiket:
Neem het zakje op trainingsdagen 30-45 minuten voor de training. Neem het zakje op rustdagen tussen de maaltijden door. Gebruik het product maximaal 3 weken, neem dan 1 week rust.
Animal M-stak kopen
Animal M-stak wordt verkocht bij meerdere online shops in Nederland. Het is beschikbaar in potten, waar de dagdosering zit verpakt in zakjes. In elke pot zitten 21 zakjes. Met één pot kun je dus 3 weken lang dagelijks M-stak nemen.
Hieronder een overzicht van alle webshops die Animal Pak verkopen:
Laatste Amazon prijs-update op 6 september 2023 11:54 am
Animal M-stak reviews en ervaringen
Heb je ervaring met dit product? Laat dan hieronder je beoordeling achter in een korte review. Is de werking goed? Heb je bijwerkingen? Laat het ons hieronder weten!