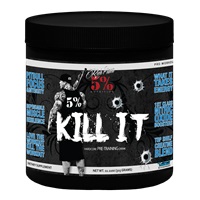 Kill It is een pre-workout booster die onder andere cafeïne, beta-alanine, L-citrulline, en creatine. Pre-workout boosters zijn supplementen die je voor het begin van je training inneemt om een boost in energie te krijgen.
Door de energieboost van een pre-workout zul je makkelijker een zware training door komen. Daarnaast kan een pre-workout helpen tegen vermoeidheid voordat je gaat trainen, en je trainingsprestatie verbetere ook als je niet vermoeid bent.
Kill It bevat voor de energieboost 250 mg cafeïne. Dit is een voor een pre-workout een middelmatige dosering cafeïne. Creatine verbetert de prestatie bij korte krachtinspanningen. Beta-alanine helpt verzuring tegen te gaan bij langere inspanningen. L-citrulline zorgt voor vasodilatatie, en helpt daarom voor een betere pomp.
Dit supplement kopen voor de laagste prijs:
| | | |
| --- | --- | --- |
| Bodyenfitshop.nl | €26,90 / 357 gram | Bekijken |
Productomschrijving
Rich-Piana.com omschijft dit product als volgt:
"KILL IT has roughly half the caffeine content of 5150 while delivering the same intensity and pre workout focus with strength building creatine and NO-boosting agmatine sulfate. This is 5% Nutrition's All – In – One Pre Workout supplement for men and women that want to love their workout – and kill their workout. LESS STIMULANTS. MORE PUMPS.
Focus, Pumps, Energy, Intensity. KILL IT puts it all together.. Using tried and true ingredients combined with cutting-edge innovation, KILL IT delivers sleeve-stretching pumps with mega doses of proven performance enhancing compounds.
– All – In – One Pre Workout
– Creatine and Endurance Blend
– Citrulline and Beta Alanine
– Nitric Oxide Support
– Promotes Lean Muscle
AGMATINE SULFATE
Agmatine is a neurotransmitter that helps your body produce more nitric oxide (NO), increase insulin sensitivity, promote lean muscle, and enhance blood flow. Better blood flow means more nutrients fill your muscles, fuel your workout, and deliver pumps – rep after rep.
BETA ALANINE & CREATINE
Traditional creatine monohydrate takes weeks of pre-loading to reach an effective dose, along with the water retention and bloat that can slow down your training session. Not here at 5%! KILL IT knows that you're here to PUT IN WORK. COPMAX delivers the benefits of creatine – strength, endurance, and lean muscle – with none of the drawbacks, from your first scoop.
3 CREATINE SOURCES FOR STRENGTH AND ENDURANCE
– Magnesium Creatine Chelate
– Tri-Creatine Malate
– Creatine Pyruvate
HYDRATING ELECTROLYTES
Coconut water delivers electrolytes, sodium, and potassium, along with vital nutrients and amino acids, which keep you building muscle and hitting the iron."
Ingrediënten en voedingswaarde
Actieve ingrediënten, volgens Bodyenfitshop (Smaak Fruit Punch):
Samenstelling
Per 100 gram 
Per dosering:
1 maatschep
(11.9 gram)
Vitamin B3 (as niacinamide)
252 mg
30 mg
Magnesium (creatine MagnaPower
(magnesium creatine chelaat))
1008 mg
120 mg
L-citrulline
33613 mg
4000 mg
Beta-Alanine (CarnoSynch)
16807 mg
2000 mg
MagnaPower
12605 mg
1500 mg
L-taurine
8403 mg
1000 mg
N-Acetyl L-Tyrosine
4202 mg
500 mg
Creatinol-O-fosphate (COPMax)
4202 mg
500 mg
Caffeine watervrij
2101 mg
250 mg
L-Norvaline
1050 mg
125 mg
Rhodiola Rosea Extract (wortel)
630 mg
75 mg
Overige ingrediënten (Fruit Punch): natuurlijke en kunstmatige aroma's, voedingszuur: citroenzuur, zoetstof: sucralose, antiklotermiddel: siliciur-ndioxide, kleurstof: allurarood.
Allergeneninformatie: geen informatie.
Bijwerkingen/waarschuwingen:

Is Kill It Pre-Workout gevaarlijk in gebruik? Dit zijn de waarschuwingen die er op het label staan:
"Bevat cafeine. Niet aanbevolen voor kinderen en vrouwen die zwanger zijn of borstvoeding geven. Een dagdosering bevat 400 mg cafeïne. Waarschuwing: 'Allurarood kan de activiteit of oplettendheid van kinderen nadelig beïnvloeden'. Dit product is een voedingssupplement. De aanbevolen dosering niet overschrijden. Een gevarieerde, evenwichtige voeding en een gezonde levensstijl zijn belangrijk. Een voedingssupplement is geen vervanging van een gevarieerde voeding. Koel, droog en buiten bereik van kinderen bewaren."
Gebruik en dosering
Volgens het etiket:
Mix 1 maatschepje Kill It met 250ml water, sportdrank of vruchtensap. Drink Kill It 30 minuten voor een training.
Kill It pre-workout kopen
Kill It pre-workout van Rich Piana / 5% Nutrition is online te koop in potten van 357 gram. Er wordt aangegeven dat dit genoeg is voor 30 doseringen (scoops) van 11,9 gram. Er zijn in totaal 4 verschillende smaken verkrijgbaar: Blue Raspberry, Fruit Punch, Lemon Lime, en Mango Pineapple.
Hieonder alle webshops die dit product verkopen.
| | | |
| --- | --- | --- |
| Bodyenfitshop.nl | €26,90 / 357 gram | Bekijken |
| XXLnutrition.com | €29,90 / 357 gram | Bekijken |
| Body-supplies.nl | €29,90 / 357 gram | Bekijken |
| Bol.com | €34,90 / 357 gram | Bekijken |
Twijfel je nog over je keuze? Bekijk dan het artikel 'beste pre-workout' voor advies over de aanschaf van een pre-workout.
Kill It pre-workout review
Heb je ervaring met Kill It pre-workout van Rich Piana / 5% Nutrition? Laat dan hieronder je beoordeling achter in een korte review. Smaakt het goed? Lost het goed op? Merk je een bevordering van prestatie bij je training? Bijwerkingen? Laat het ons hieronder weten!
Comments Rating
( review)