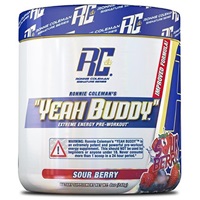 Yeah Buddy van Ronnie Coleman is een pre-workout booster met cafeïne, beta-alanine, en L-citrulline. Pre-workout boosters zijn supplementen die je voor het begin van je training inneemt om een boost in energie te krijgen.
Met een boost in energie wordt het makkelijker om een zware training door te komen. Dit kan vooral nuttig zijn als je moe bent voordat je gaat trainen. Maar ook zonder vermoeid te zijn, kan een pre-workout je trainingsprestaties verbeteren.
Voor de energieboost bevat Yeah Buddy 380 mg cafeïne per dosering. De beta-alanine in deze pre-workout helpt om verzuring tegen te gaan bij langere inspanningen. L-citrulline zorgt voor vasodilatatie, en helpt daarom voor een betere 'pomp' bij je training.
Yeah Buddy pre-workout kopen:
Productomschrijving
Ronniecoleman.net omschrijft dit product als volgt:
"The original Yeah Buddy™ rocked the pre workout world by delivering INSANE energy with only 1 scoop needed and without the dreaded crash!
Version 2 is here and better than ever featuring the newest ingredient in energy and focus technology, Dynamine™. We've combined this with Teacrine® for an energy and focus experience that you've never felt before!
All New Ingredient Panel
Powered by Dynamine™
4G L-Citrulline Malate
Extended Release Energy
Only 1 Scoop Needed
Non-Crash Formula
Laser Focus
cGMP Certified
Manufactured in the U.S.A.
Dynamine™-
Dynamine™ is the newest ingredient in high impact energy, mood and focus. Dynamine™ is methylliberine, a purine alkaloid found in the kucha tea leaf. Its molecular structure is similar to theacrine (aka TeaCrine ) and is believed to behave in similar ways in the body. Like theacrine, methylliberine may amplify feelings of energy, mood and focus by activating receptors and other key neurotransmitters, inhibiting adenosine receptors, all without elevating heart rate or blood pressure.*
L-Citrulline-
L-Citrulline is converted to L-Arginine in the body, leading to increases in both L-Arginine and nitric oxide. This ingredient acts to Increase production of nitric oxide which promotes vascular dilation, which helps support normal oxygen and blood circulation throughout the body. That means PUMPS! *
L-Caffeine-
Caffeine is about as tried and true as it gets in the energy department. Everyone is aware of the energy and focus benefits from caffeine but caffeine has also been proven in studies to increase athletic performance. Yeah Buddy contains a strong 420mg dose of both fast acting and extended release caffeine to avoid the dreaded pre workout crash.*
Beta-Alanine-
Beta-Alanine is a pre-cursor to carnosine. It joins with the amino acid histidine through a peptide bond to form carnosine in the muscle. Muscle carnosine is the major buffering agent, or neutralizer, of hydronium ions that lead to muscle fatigue and failure. By increasing the amount of carnosine in the muscle, CarnoSyn beta-alanine both increases an athlete's peak performance and supports muscle recovery.*
L-TeaCrine-
TeaCrine® is a patent-pending compound containing pure theacrine, which can be found in natural sources such as the Camellia assamica varkucha tealeaf, coffee and certain exotic fruits. A nature-identical compound, TeaCrine® delivers energy, mental clarity, and improved motivation and mood. It does not increase heart rate or blood pressure and is not a stimulant.*"
Ingrediënten en voedingswaarde
Actieve ingrediënten, volgens Body-supplies (smaak Strawberry Lemonade):
Ingrediënt
Per dosering:
(9 gram)
L-citrulline malaat (2:1)
4 gram
Beta-Alanine
2 g
Choline bitartraat
550 mg
Duurzame cafeïnemengeling (watervrije cafeïne en Encapfeine™)
380 mg
Theacrine (kucha thee blad, camilla assamica var. kucha)
100 mg
Kucha thee-extract (blad, camellia assamica var. Kucha)
100 mg
Adhatoda vasica (hele plant) extract
50 mg
Overige ingrediënten (Strawberry Lemonade): Natuurlijke en kunstmatige smaakstoffen, sucralose (zoetstof), calciumsilicaat (antiklontermiddel), silica (antiklontermiddel) en kleurstoffen (rood).
Allergeneninformatie: Geproduceerd in een fabriek waar allergenen worden verwerkt.
Bijwerkingen/waarschuwingen:

Is Yeah Buddy Pre-Workout gevaarlijk in gebruik? Dit zijn de waarschuwingen voor dit supplement:
"Bevat cafeïne (380 mg per dagelijkse portie). Niet aanbevolen voor kinderen en vrouwen die zwanger zijn of borstvoeding geven. Een voedingssupplement is geen vervanging voor een gevarieerde voeding. Dit supplement is niet geschikt voor personen beneden de 18 jaar. Aanbevolen dosering niet overschrijden. "
Gebruik en dosering
Volgens Body-supplies.nl:
Meng 1 maatschep (9 g) met 240-300 ml water. Neem voor de eerste keer 1/2 maatschep (4,5 g) met 120-150 ml water. Neem nooit meer dan 1 maal daags.
Ronnie Coleman Yeah Buddy pre-workout kopen
Yeah Buddy pre-workout van Ronnie Coleman Signature series is online verkrijgbaar bij meerdere webshops. Dit product wordt verkocht in potten van 270 gram, en in vier verschillende smaken: Cherry Limeade, Green Apple, Sour Berry, en Strawberry Lemonade. Met een dagdosering van 9 gram, is één pot dus voldoende voor 30 doseringen.
Hieronder alle webshops die dit product verkopen.
Twijfel je nog over je keuze? Bekijk dan het artikel 'beste pre-workout' voor advies over de aanschaf van een pre-workout.
Yeah Buddy pre-workout review
Heb je ervaring met Yeah Buddy pre-workout van Ronnie Coleman Signature Series? Laat dan hieronder je beoordeling achter in een korte review. Smaakt het goed? Lost het goed op? Merk je een bevordering van prestatie bij je training? Bijwerkingen? Laat het ons hieronder weten!